Posted by kb on June 4th, 2013 . Filed under:
Accessories
,
Fashion
,
Shopping
.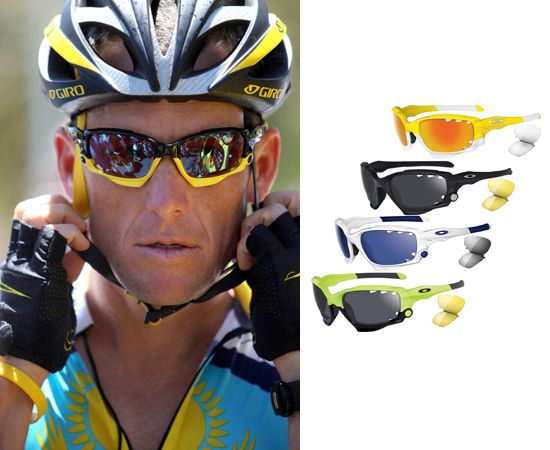 Lance Armstrong wearing Oakley Jawbone sunglasses
There is no doubt that the Oakley Jawbone sunglasses are visually stunning (see the pictures above). If it is important for you to be noticed, these are the shades for you. The bright colours will grab the attention of people around you and the modern style and shape of the sunglasses will show you as an individual with taste. The look and image of a product is obviously important to the consumer and this product stands out from the crowd. Looks shouldn't be the only reason to buy a pair of sunglasses, but the style and feel of them will always remain high for consumers.
When it comes to the Oakley Jawbone sunglasses, the technology is something more akin to a futuristic Hollywood blockbuster as opposed to a pair of sunglasses – but that emphasises how cutting edge these sunglasses are. The really great thing about them is that these developments and progressions are not just there to look good; they add value to the sunglasses. For instance, the quick and easy locking mechanism allows for lens changes to react to different sort of light. Depending on where and when you use these sunglasses, you may be exposed to a number of differing conditions. Having the lens change option means you are not required to carry around a number of sunglasses – the Jawbone can do it all.
So, if you are planning of having your first pair of jawbone sunglasses, I suggest getting yours on Red Hot Sunglasses. An online store that offers a 100% trend driven collection of men's and women's designer sunglasses, with FREE worldwide delivery.